COLEMAN FIRE DEPARTMENT OFFICERS
| | |
| --- | --- |
| CHIEF | THOMAS BEHNKE |
| ASSISTANT CHIEF | TERRY REED |
| CAPTAIN | DAN ROSNER |
| CAPTAIN | MIKE PELLMAN |
| SAFETY AND TRAINING OFFICER | CURT TISLER |
| SATETY AND TRAINING OFFICER | DAVE PELLMAN |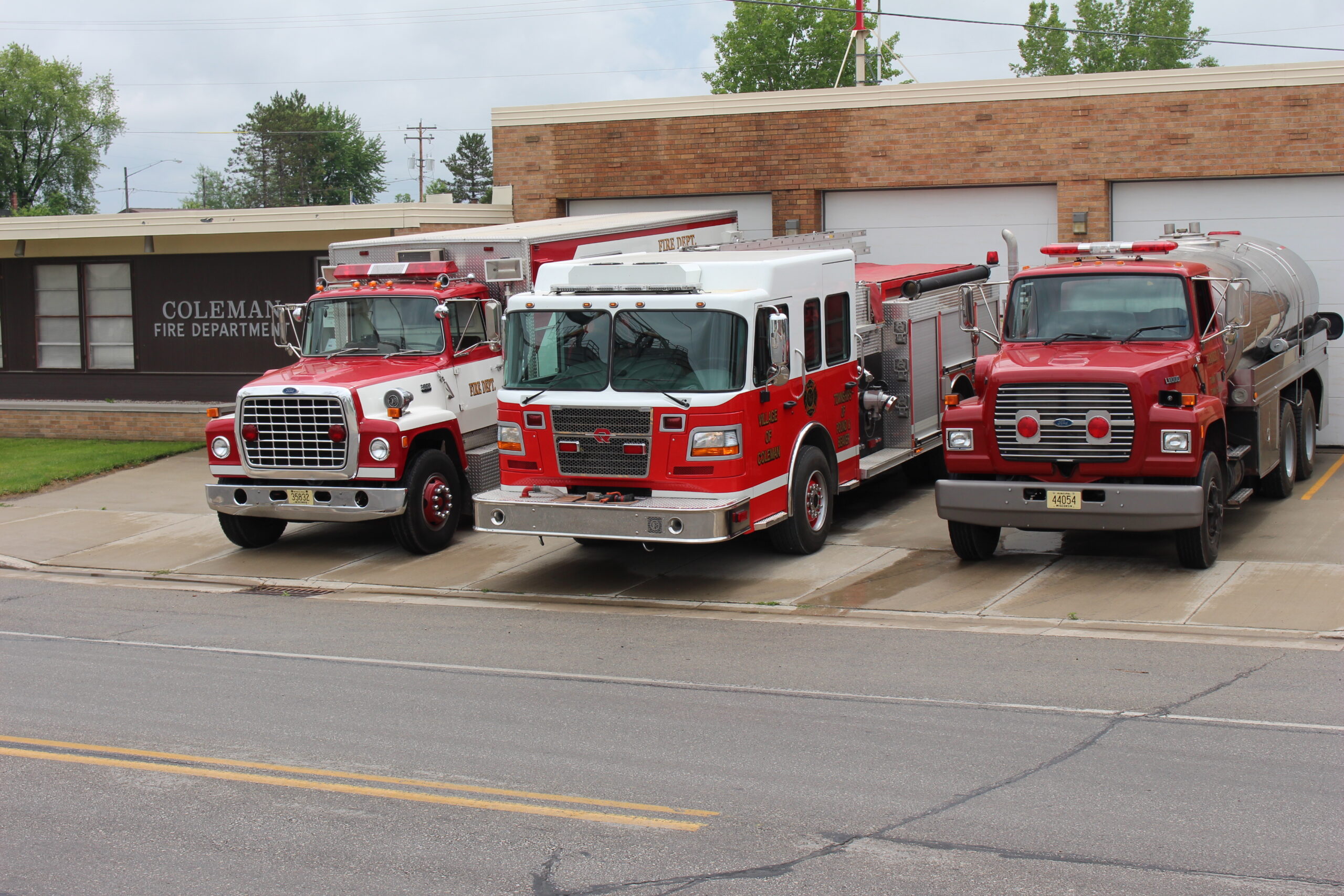 | ROSTER | YEARS OF SERVICE |
| --- | --- |
| RICK PATENAUDE | 37 |
| TERRY REED | 31 |
| CURT TISLER | 30 |
| DARREN BUCKSA | 25 |
| DAVE PELLMAN | 25 |
| THOMAS BEHNKE | 25 |
| BRUCE BORKOWSKI | 23 |
| JEFF GENDRON | 21 |
| DAN ROSNER | 19 |
| SCOT GATZKE | 15 |
| JUSTIN BUNKER | 1 |
| KARL PETERS | 13 |
| DAVE KAMPS | 12 |
| CHARLES PELLMAN | 11 |
| MIKE PELLMAN | 11 |
| KEVIN ZEITLER | 8 |
| TREVOR BUSHMAKER | 6 |
| ALEX TISLER | 5 |
| MIKE CARNCROSS | 4 |
| AARON PATEFIELD | 4 |
| JORDAN GONDECK | 3 |
| | |
| | |
| | |
| | |
MEETING DATES
Meetings are held the last Tuesday of every month unless the Tuesday falls on a holiday, then the meeting will be held on the Tuesday before that holiday. In the month of November the meeting is held the Tuesday before deer hunting.
Training dates are after the meeting or when the officers decide to have it.
Coleman Fire Department covers the Village of Coleman and the Township of Pound. We do aid to other fire departments through the Mabas System.
FUNDRAISERS
Meat Raffle: We have a meat raffle in the spring of every year either February or April on a Sunday.
Fireman's Picnic: The Fireman's Picnic is held the third Saturday of July. Parade, volleyball, ball games, corn bag toss, bands, raffles, fireworks Saturday night etc. Food and Refreshments are served on the grounds.
Open house and Booyah Sale: The Open house and Booyah sale are held either the first Sunday or second Sunday of Fire Prevention Week. Food, refreshments and raffles. Show and tell.
OTHER FUNCTIONS
Every year we go to school to show fire equipment and fire trucks to Grades 1-4.
Every other year we do the Every 15 minute program
Every year we have show and tell for the kindergarten class or preschool class at the Fire Station.
HOW TO JOIN OUR FIRE DEPARTMENT
We are always looking for new members to join our team of firefighters. To become a member just a few things need to be done.
1 page application
Interview with officers
Officers vote on new members
2 years to complete a 60 hour course (Fire Department pays for the class)
CONTACT
Coleman Fire Department
107 W Main St.
Coleman, WI 54112
Chief Thomas Behnke 920-604-0535